Tom Durston wears multiple hats – founder and editor-in-chief of Inverted Audio, DJ as Antepop & Communications Director at Farr Festival, hence being an integral member of the UK music industry. I vividly remember soaking up the morning sun at the Inverted Audio stage at Farr Festival this summer with a perfect mood-setting ambient set. The unique selection of artists curated at the stage intrigued me to know more about his journey. The result is an in-depth one on one and a special vinyl-only recorded set marking our 5th WAVLNGTH mix. Over to Tom…
What was the main aim behind Inverted Audio and how did you work on differentiating Inverted Audio from other online publications?
My aim for Inverted Audio has always been to give attention to unique underground electronic music as well surfacing the visual side of electronic music. I believe that Inverted Audio is a premium electronic music magazine, we are not a hype machine for the latest hip producer or click bait articles.
We're all for the music that makes the hairs on our arms stand up. We don't waste our time publishing negative reviews and we don't use a point system as everything on the site is good. Music is subjective and using a point / star system seems terribly antiquated. We are simply steering people towards music that doesn't harness the attention that it should. However,  the key thing that differentiates us from the rest of the crowd is our unique aesthetic. The clean and clutter free appearance of the website helps the reader focus on the words, artwork and music.
The grid formation that we introduced in 2011 was revolutionary. We developed our own WordPress theme so that we were far removed from the traditional blog format that all other publications had adopted. To this day I believe that Inverted Audio is still renowned for our aesthetics.
You have successfully run Inverted Audio for 9 years, can you tell us what are the most challenging parts of sustaining an online content publication?
As with every passion project finance is the key struggle. Funding the site has always been a challenge. Over the years we have forged partnerships with festivals and promoters to help fund Inverted Audio, but it's never enough. You have to hustle in order to get the money in and we are continuously expected to promote things for free. That's one of major downfalls of running a  website.
Facebook has also tempted people to promote their events through the platform, which diverts attention from the website. They are essentially the ultimate gatekeepers. People are literally ramming money into the Zuckerberg's pockets. It's a shame because a lot of websites are now struggling to survive and many are closing down.
If you had to lay down 5 key rules for running a successful online publication, what would they be and why?
– Work out how to monetise the site from day one.
– Plan your website architecture and how you can develop for the future.
– Network your ass off.
– Plan ahead. Think what will determine your efforts, is it a physical interaction or digital dependency? People are all about real life experiences.
– Be nice to people and opportunities will arise.
Can you tell us a bit more of your involvement with Farr Festival? How did it all come about for you?
This is a long story, to be brief Inverted Audio forged a media partnership for Farr Festival 2015 to relay key festival announcements. I was invited to close the Adventures In Success stage on the Friday night. I was playing from 12:30 – 2am and I was super excited about it. I arrived early and checked out the stage. It was really impressive, a big stretched tent flanked by two hefty stacks of Funktion One speakers. However the Dj playing before me completely cleared the floor, so I stepped up to the decks with about 5 people on the floor.
I started off my set with DJ Richard – Leech 2 and built it up and up. People started to fill the floor and then suddenly after 20 mins there was a power cut in the woods and everyone descended upon the stage. I played everything from Maurizio's 'Domina' to The Field's 'Over The Ice' and then closed my set with Aphex Twin "Windowlicker". People lost their shit! That moment will stick with me for a lifetime.
The following year I met up with Farr Festival director Oscar to discuss another media partnership, which we agreed on, so I asked him if there was any work going spare. He said yeah there was, so I began working as Communications Director in October 2015 and the rest is history.
For 2017 one of your responsibilities revolved with the line up for the festival (IA stage/tent) and communications. Can you share with us your approach behind programming the line up for the IA stage/tent? How was it different from the others?
Following 2016 I really wanted to have a say in curating a stage at Farr Festival. So I came up with the idea of doing an ambient and experimental stage, to offer people respite from tired limbs and a place to experience alternative electronic music that we'd cover on Inverted Audio.
"Campfire Headphase" is an ode to Boards of Canada's "The Campfire Headphase" album released in 2005 via Warp Records. I named it this because for me it is the ultimate name for a festival stage and I've been listening to the album since it was released! From the beginning I knew that a stretched tepee tent would be the best structure to house the stage in, especially if it rained! We installed a four stack Funktion One sound system so that it drowned everyone in sound and focussed on balancing the programing with an equal amount of DJs and live acts.
The artists on the lineup are not easily classifiable. I count them all as pioneers in their own rights. And I'd like to extend a very big thank you to all of them for playing at the debut edition of Campfire Headphase. Basses Terres, House Of Traps, Huerco S., Jacques Bon, John Swing, Leafar Legov, Rising Sun, Sad City, Terekke, Wolf Müller & Cass. you're all absolute gents!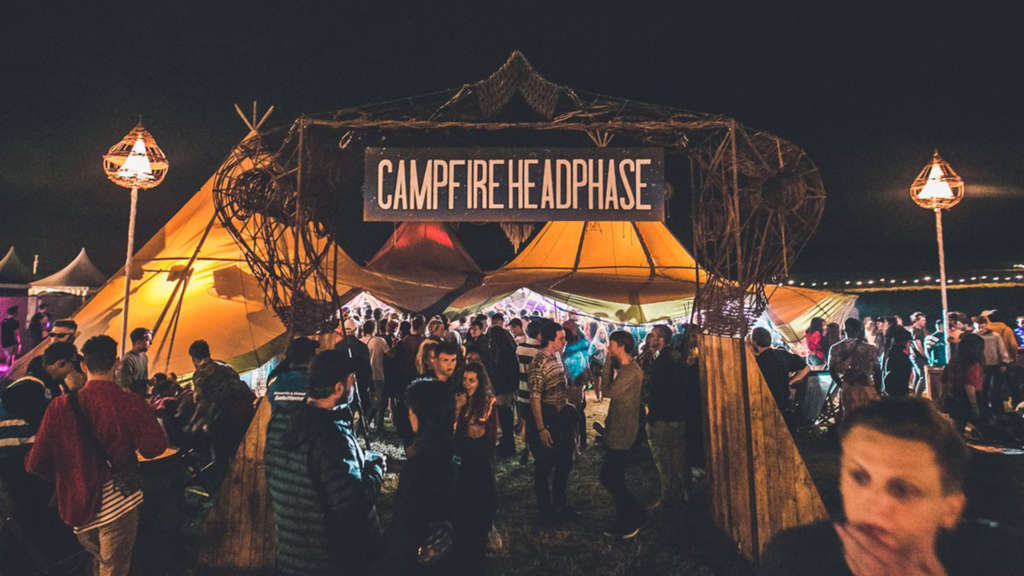 Communications play a key role in any project. What was your strategy to communicate all the components of 'Farr Festival' to it's best capability so that your audience was well informed? Did you'll try something innovative to garner their attention?
For 2017 we rebuilt our website to include a news section called "The Hub" – this allowed us to centralise all of our communications. Key announcements, press releases, podcasts, our DJ mix competition and pre-festival events were all published through the site and then relayed to our social networks. This meant that when people clicked through from our socials they arrived on the site and would then have the opportunity to buy tickets, engage with the lineup and discover what other daytime activities and events were happening at the festival.
I conducted features with our stage partners, such as Brilliant Corners to highlight the fact that they were bringing their awesome Klipsch sound system and vintage BBC x Technics turntable module to Farr. We provided genuine editorial, so we could help realise the efforts and attention to details that we were investing into the festival.
We also debuted "Farr On Tour" events this year using Facebook Live. We hosted in-store events at Smallville Records in Paris in March with DJ Jus Ed and Syracuse, OYE Records in Kreuzkoln, Berlin in April with Rising Sun and Machine Woman, plus a special broadcast from Terekke on Red Light Radio in Amsterdam. Communications are vital, methods and technology change rapidly and you must learn to adapt and adopt. However developing a "voice" for your audience is key…and emoji's…people love an emoji!
In the two years of working with Farr Festival, could you highlight a high and low that you have experienced?
For me the highlight is being part of a small team and seeing what 10 months of hard graft achieves. This year I felt that Farr Festival was expertly produced. It now feels like a proper fully fledged electronic music festival. Despite having a small team, we are each completely dedicated to creating the best experience possible.
As for the lows, hmmmm, I'd have to point this towards the local council for jeopardising the sound at the festival, just for a couple of pernickety local residents that complain about the volume interfering with them watching TV. Come on guys! It's affecting just three nights of the year, just let us blast the speakers so that seven thousand people can dance and feel the music. We're living in such an antiquated time that the complaint of a couple of people can disrupt the enjoyment of thousands!
You also DJ under the moniker 'Antepop.' How would you describe your style?
My selections give full vent to extended blends of widescreen electronics, rugged techno and deep house. Naturally my DJ style has always been a reflection of the music that we push on Inverted Audio. I ONLY play vinyl because laptops, USBs and CD's are just for wannabes. If you're serious about the music then invest in the music that you love. Don't carry thousands of tracks with you, because you'll never play them in a set. If you have records you know your tunes, you can build a journey to your set and you will discover the B-sides, hidden gems and music that you cannot buy in digital format.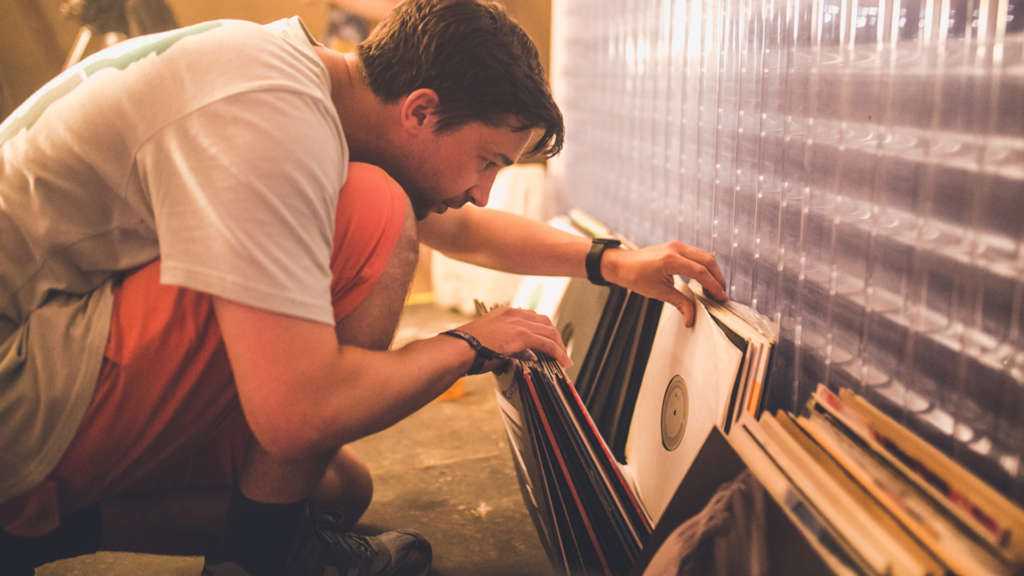 You host a radio show on Peckham-based community radio station Balamii. How do you try to make your shows consistently interesting for the listeners?
Well I don't plan my sets with meticulous detail – they are mostly made up on the spot with the records that I have in my bag. I sometimes invite guests to join me for a short Q&A and a guest mix. Previous guests include Alma Negra, John Swing and Chloe Frieda from Alien Jams.
How much time would you spend on selecting your tunes for a radio show? Do you like giving your shows a theme or just play recent tunes that you discover from time to time?
I love a theme, but it also depends what music I'm listening to at that moment and what weather is enveloping Peckham. As I play with vinyl my one thing I have to do before a show is to work out what two tracks I will begin with. I then pack up the records that I feel will push myself to play a completely new set. I pack a hodgepodge of records so that I can create a one off journey fusing different genres with one another. The weirder the better in my opinion.
You have recently re-located to Berlin. What are your music plans whilst you are there?
I've been here for 7 days and so far so good. I'm living in a nice flat and have a great shared workspace in Kreuzkoln alongside Tailored Communications, Kompakt Records and a few other music orientated companies. Ever since setting up Inverted Audio I have always wanted to live here. A few years ago it seemed that all of my friends had moved to Berlin. Also with the impending nightmare of Brexit, it was now or never! 
My plans are to expand the Inverted Audio audience in Berlin, hooking up with radio stations, clubs, promoters, labels and pretty much anyone I've been emailing over the past decade is a priority.
I'd also love to get booked to play at clubs that are focussed on the listening experience. But beggars can't be choosers right! I want to start producing music as I know what a great track is. I just need to find the time and patience to forge my own beats. So watch this space!
Being an individual involved in the music industry for 9 years, could you describe your musical journey with us in a few lines? What life lessons have you learnt along the way to continue on this path which perhaps is a rather difficult industry to survive in?
Yes it is very difficult – the money, hours, politics of the industry makes you question why do I bother. But now I don't see what else I could do. Work for an advertising agency and push crap to people? No thanks.
My musical journey has included working in music PR, interning at Warp Records, holding a job down at Warner Music Group for one month and working at a dog creche in Hackney…no jokes. Inverted Audio has always been there and I hope that it will continue to do so in the future.
Over the years I have interviewed some of my all time heroes including DJ Koze, Lawrence, Surgeon, Huerco S, Jan Jelinek, Casino Versus Japan, Chris Clark, Wolfgang Voigt, Nathan Fake, Deepchord, The Field, Actress...the list goes on and on and on! This in itself is a great honour, to reach out and speak to these artists for a couple of hours and to try and get a deeper insight into their lives.